Hi there,
The following features were recently soft launched over the past several weeks along with many other smaller fixes based upon all of your feedback. We're continuing to make more and more updates each month and look forward to sharing them with you. Thank you for taking the time to communicate your feedback to us as it is what we use to make Tend more useful.
For select crops you can now select a harvest stage of Microgreens. This allows you to plan based on the number of flats or pots you plan to produce or by the weight of the seed per flat. You may also record harvests for microgreen plantings and view the data in your yield reports. Read more here.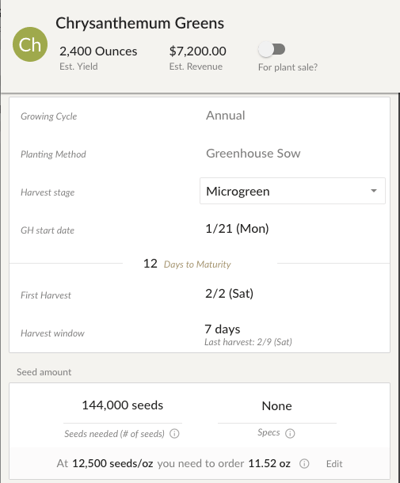 By selecting a simple toggle Tend will update the details of the planting to make it for a Plant Sale. Within the greenhouse view of the crop planner you'll be able to easily filter your plan to review only plant sale plantings and get a picture of what your plant sale will look like. A recent update to this feature now allows for the recording of actual yields and the viewing of the yields data in your yield reports. Read more here. 
Seeder details
When directly sowing your plantings with a seeder it's important to communicate the right seeder details to your crew or to reference for yourself. We've update the planting details and task details screens to add a section for you to define your seeder info.
Other Updates: 
Automatic flats calculation update: Once your planting tasks have been completed Tend will no longer update the number of flats needed. This means that after the sowing task has been completed and the planting amount changes, then Tend will no longer update the number of flats. This way your records of what was actually sown or potted up remains in-tact. 
Dragging planting bundles in the Tasks assignee view: Within the tasks feature there has been the function that allows you to drag a task to a different person in your account to reassign it. This update allows you to reassign entire planting bundles, so that you can more efficiently manage your crew's tasks.  

More filtering options added to Task list view: 

We've added more filtering options to the task list view, so that you can hone into the specific tasks you're looking for, and be more efficient at managing your back log for the week ahead.

Task Templates task name update: 

You can now add custom names to tasks within the Task Templates feature, which allows you to not be restricted to Tend's predefined task types.